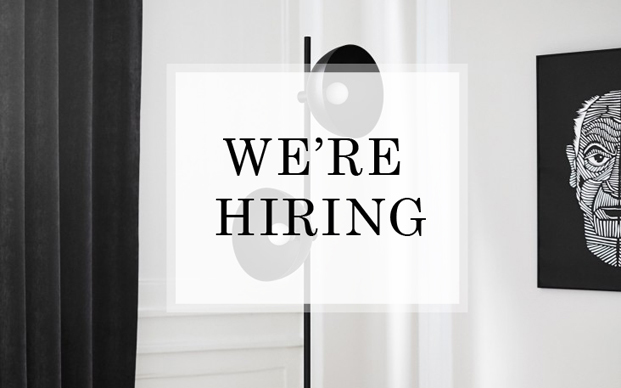 BRICpro is looking for a purchaser with interior knowledge and experience within product development and sourcing to join our team in Copenhagen.
Who is BRICpro?
BRICpro is an ethical sourcing and development company with offices in Copenhagen, China and India. We assist design brands with end-to-end productions at our partnering factories in Asia and Europe within furniture, interior and home textiles. Our client portfolio consists of brands from Northern Europe and the US within the high-end to affordable-luxury markets.
We have a strong network of suppliers in Europe and Asia that we manage in close collaboration with our offices abroad. Responsible and ethical sourcing are core-values in BRICpro, which is segmented in our participation of the UN Global Compact initiative and as an active member of the Danish Ethical Trading Initiative.
If you become part of our team, you will work in close collaboration with our clients, several suppliers and offices in India and China, and have the possibility to develop your areas of responsibilities within our company.
About the position:
In this position, you will work in a very close collaboration with our interior clients. The position involves being responsible for the client's product development (designed by the client) and purchasing, which include project management of the sampling and production phases.
The right person for this position has (i) experience with purchasing and sourcing from factories in Europe and Asia (ii) a solid technical understanding for interior and home textiles, (iii) a flair for design and trends while also possessing (iv) a good sense for business.
If you thrive in a position with a high level of responsibility and gain personal satisfaction in managing quality productions with our suppliers in Europe and Asia, then this position is a great opportunity for you.
What you will do:
Lead several of our clients' product developments and purchasing
You will work closely with our clients' designers to develop and purchase their interior collections
Product development of the client's designs from initial drawings to finished products
Prepare work drawings and product documentation
Comfortable with assigning tasks to your colleagues
Advice the clients' designers on how we can improve and optimize their designs
Project manage sampling phases and batch productions at our partnering factories
Communicate on a daily basis with our suppliers in Asia and Europe
Visit our suppliers, with around 30 travelling days a year
Be a troubleshooter in case of any problems
Coordinate on-site quality inspections with our offices in India and China and QC personal around Europe
Negotiate prices with our suppliers
Place orders and plan productions in collaboration with the clients
Be responsible for the quality and on-time delivery of your productions
Your qualifications:
Minimum 2 years of experience with purchasing and product development of interior and home textiles within the affordable luxury segment
Experience with sourcing and supply-chain management
Margin management through all stages of development (a good business sense is important)
Project management skills
Technical knowledge and understanding of different materials (ideally home textiles and interior accessories in e.g. wood, stone, brass, steel, glass, melamin, paper, ceramics etc.) and production processes
Global network of suppliers within the interior design industry
Super User in Adobe package and Microsoft Office (experience with SolidWorks or other 3D programs is a plus)
Danish driving license
Service minded towards clients
Fluent in English, both written and spoken
Ability to work independently and be assertive
A hard working team player
Highly motivated with strong problem solving skills
An international mind-set
Additional information:
The position can be made to suit either a part-time or full-time job at our office in Copenhagen. You should be ready to travel around 30 days each year to visit suppliers, carry out quality inspections, follow-up on running productions etc.
International applicants are welcome to apply if you are willing to relocate and have a working visa to Denmark.
Salary will be negotiated according to qualifications.
If you have any questions regarding the position, call our CEO, Mads Bisgaard Christensen, at +45 2611 3859.
When to start:
We are hiring as soon as possible.
How to apply:
Send your application, CV, previous work or other relevant information to mads@bricpro.com. Subject in the e-mail should be "Purchaser".
Interviews:
We will be evaluating the applications on an on-going basis and will be hiring as soon as possible.